NC Ten by Ten: A Festival of Ten-Minute Plays
to present a two-town play festival in July 2018
NC 10 by 10: A Festival of 10-Minute Plays
Call for Submissions – February 1–March 10, 2018
Ten short plays by North Carolina playwrights will be selected for full production in NC Ten by Ten. The festival runs July 19-22, 2018 at The ArtsCenter in Carrboro and July 26-28, 2018 at The Cary Theatre in Cary.
Producers:
The festival is produced jointly by Cary Playwrights Forum and OdysseyStage Theater. Each group will cast and produce five of the 10 winners. All ten plays will be presented at each performance, with the production moving from The ArtsCenter to The Cary Theatre for its second weekend. The ArtsCenter's mainstage theatre seats 300; The Cary Theatre seats 176.
Submissions:
NC 10 by 10 accepts entries only from playwrights currently living in North Carolina. Students attending a NC college full-time qualify, as do military personnel stationed in NC.
The competition is limited to unpublished plays that have not been produced in the Triangle (Raleigh-Durham and surrounding areas).
Scripts must have simple staging requirements and run no longer than 10 minutes.
Musical submissions with little or no accompaniment are acceptable.
Playwrights may submit up to two scripts, sending each submission in a separate email.
Email Contents:
The subject line should have the words "10 by 10 Submission" followed by the title of the play (sample subject line: 10 by 10 Submission – Fighting Mr. Right).
The BODY of the email MUST include the title of the play and the playwright's full contact information including playwright's name, mailing address, phone(s), and email. DO NOT attach contact information.
Attach script in standard format in Word or PDF with cast and set requirements.
There must be NO contact information on the script itself. Scripts that contain contact information will be disqualified.
Submission Dates:
February 1 – March 10, 2018. Plays will not be accepted after March 10, 2018, 11:59PM EST.  The email address for submissions is submissions@caryplaywrightsforum.org
Notifications:
We will notify the 10 winners by email and post those titles by April 15, 2018 on our websites: www.caryplaywrightsforum.org and www.odysseystage.org
The Award:
Each writer whose work is produced during the festival will receive an award of $50.
If you have questions, please contact John Paul Middlesworth at middlesworth@odysseystage.org
_________________________________________________________
The Perfect Day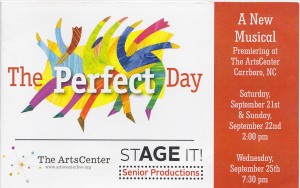 Article from The Daily Tar Heel, Sept. 19,2013
Click here to watch a musical excerpt from our performance
No matter what your age, be prepared to be inspired by The ArtsCenter's "The Perfect Day."
A group of 12 senior citizens have come together to put on a show to abolish the senior stigma and to encourage their fellow seniors to get up and be active.
Susan Barry, director and playwright of "The Perfect Day," said she wrote the play because she wanted to show that, contrary to popular belief, the senior population actually has a lot to contribute to society.
"We are really a creative, fun-loving, intelligent, experienced group of people who would like to serve in some way, and be responsible citizens," Barry said.
Barry said the play opens with a retirement community where the residents are grumpy and out of touch with society. The conflict begins when something happens — something that will be a surprise to both the characters and the audience — that wakes them up and requires their contribution. Half of the play will be musical, with all original songs written by Barry, and half of the play will be dialogue.
"It is a very energizing show, and there's audience participation, too, so we just want everyone to come and enjoy it with us," Barry said.
Paul Stiller, the set designer and technical director who plays the role of technical genius Ernest, said that this play resonates with him because of its attempt to start the dialogue on the role of the senior in society.
"The whole concept of the play is to recognize and honor the concept that just because you are older than 55 years old, you do have the ability to do something useful every once in a while," he said. "And it's also up to you as an individual to get off your duff and do something."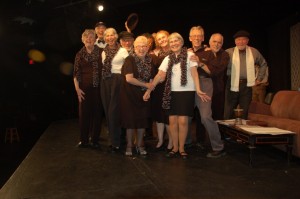 . . .
Lyn Lamont, who plays Pearl, a woman who has Alzheimer's, said she hopes this play will provide food for thought to anyone who comes, and she hopes it will help people turn their attitudes around about age.
"It's easy to be negative," she said. "It's habit for a lot of us to go gripe, gripe, gripe, gripe, gripe, but I love it when I see people turn themselves around. It can be done. And that's what these people do."
Barry said she wants people to see that life is just a series of dots that need to be connected.
"Life is an incredible adventure, and it doesn't stop when we retire and start something new," Barry said. "It's a continuation. Connecting those dots is a significant activity no matter what your age."