OdysseyStage Theater traces its history back to 1987 when an enterprising group of amateur actors in Durham, NC, led by Lawrence Stuart "Skip" Marsden and Dona Henderson, formed Curtain Up! for the purpose of presenting plays and musicals in the Woodcroft community. Curtain Up! for years ran a season of 3 to 4 shows a year. The early leaders of the group also secured 501(c)3 status for Curtain Up!
Over time the group's geographical focus shifted to Chapel Hill where it began a long-standing relationship with the Chapel Hill Senior Center, allowing the group to present community theater (for all ages) on the center's stage. On March 14, 2001, reflecting a new location and new leadership, the organization's name was changed from Curtain Up!, to OdysseyStage, Inc. From that point through 2006 OdysseyStage ran seasons of three plays and one musical each year. It also sponsored the "New Adventures in Playwriting" script competition to encourage the development of new plays in NC. In 2005 OdysseyStage adopted the following mission statement: "OdysseyStage is a non-profit community theatre dedicated to entertaining audiences of all ages, educating adults and children through theatrical participation, empowering local talent."
The group took a brief hiatus in 2007 as the Chapel Hill Senior Center closed its facility and reopened in a new location. OdysseyStage was reinvigorated in 2008 with a new series for seniors, Readers Theatre at Lunch, at the ArtsCenter in Carrboro and a revival of their holiday show, It's a Wonderful Life, at the Seymour Center in Chapel Hill.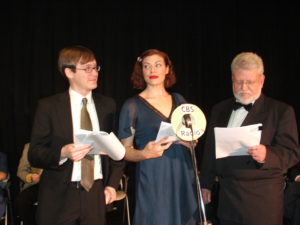 From 2008 to 2013, under the leadership of Charles Stern, OdysseyStage focused its efforts on theater by and for senior citizens, producing staged readings, dinner theater, and culminating in Sue Barry's fully staged musical, The Perfect Day.
OdysseyStage now enters a new part of its journey, returning to its roots as a community theater. With a particular interest in performances at The ArtsCenter, OdysseyStage plans to answer the call for community theater in Carrboro and Chapel Hill.